The world's first 430-watt home solar panel
SunPower solar panels – are you ready for a giant leap in solar technology? SunPower Corporation, part of the Maxeon Solar Technologies Group, manufactures the highest wattage panels available on the market, including the world's first 430W solar panel for the home: the SunPower Maxeon 3 430W. These premium, highly efficient SunPower solar panels will help you save more in energy bills compared to conventional solar panels, harnessing clean, free energy for your home or business.
SunPower has also released record-breaking so-called 'AC' solar panels: the all-black SunPower Maxeon 6 AC 425W panel and the Maxeon 6 AC 440W panel with a white backing sheet. These panels have on-board micro-inverters and generate AC power, without the need for a central inverter.
SunPower solar panels, Unbeatable warranties
SunPower panels come with three market-leading warranties for complete peace of mind:
Power: The power output of all solar panels gradually decreases over time. Most panel manufacturers guarantee no more than 20% degradation over 25 years. SunPower Maxeon 3 and Maxeon 6 panels, on the other hand, offer a remarkable 8% maximum degradation guarantee over the same 25-year period. In addition, there is an 11.7% maximum degradation guarantee over 40 years in the UK (you must register the panels to secure the 40-year warranty).
Product: The SunPower Corporation also employs next-level manufacturing techniques in order to deliver expertly finished panels. As standard, Maxeon panels are covered for defects relating to materials and workmanship for 40 years.
Service: Finally, in the unlikely event of a SunPower solar panel failing, the defective panel would be repaired or replaced free of charge for the full 40-year period. If no suitable repair or replacement were available, you would be reimbursed for the cost of the panel.
Infinity Energy Services are UK accredited installers of SunPower Solar Panels for homes and businesses across Hampshire, Dorset, Wiltshire, Berkshire, Surrey and West Sussex.
Call 0800 909 8882 and speak to your local authorised SunPower partner
Alternatively, we can arrange a no-obligation survey
WHY YOU SHOULD DEMAND SUNPOWER SOLAR PANELS… SEE THE VIDEO
Superior solar panel design for greater energy output
More energy
Achieve greater energy output and higher performance – SunPower solar panels can generate up to 60% more energy over 25 years
Proven durability
Durable and dependable design that is tried and tested – SunPower panels are engineered to operate in harsh weather conditions
40-year warranty
Invest with confidence – The SunPower Corporation offers a world-beating 40-year warranty which covers power, product and service
SunPower Maxeon 3 solar panels
SunPower Maxeon is the most advanced type of solar panel on the market.
The SunPower Corporation has been developing the most efficient solar panels in the world for over 10 years.
After manufacturing over 3.5 billion solar cells and 30 million panels, its top-of-the-range Maxeon 3 panels (product code: SPR-MAX3-430) offer unrivalled performance and longevity.
The unique SunPower Maxeon solar cells eliminate 86% of the reasons that normal cells could fail, and deliver up to 35% more energy from the same roof space over the first 25 years.
Elimination of grid lines
Maxeon solar cells incorporate 'back-contact conductivity', eliminating ugly metal grid lines on the front of the panels, and helping them to absorb more light.
Solid metal backing
Metal reinforcement adds considerable strength to each solar cell, enabling them to resist corrosion and, at the same time, making the whole panel much more durable.
Robust connectors
SunPower solar panels have built-in strain relief and triple-redundant connectors, thereby controlling the expansion and contraction caused by daily temperature swings.
Accredited SunPower Solar Panels installers
We are proud to be one of the 10 approved SunPower solar suppliers in the UK.
We use specialist solar CAD software from Germany, PV*SOL, to make highly accurate predictions as to how many units of electricity your solar panels will generate each year.
To discuss further how SunPower solar panels can work for you, book a survey now.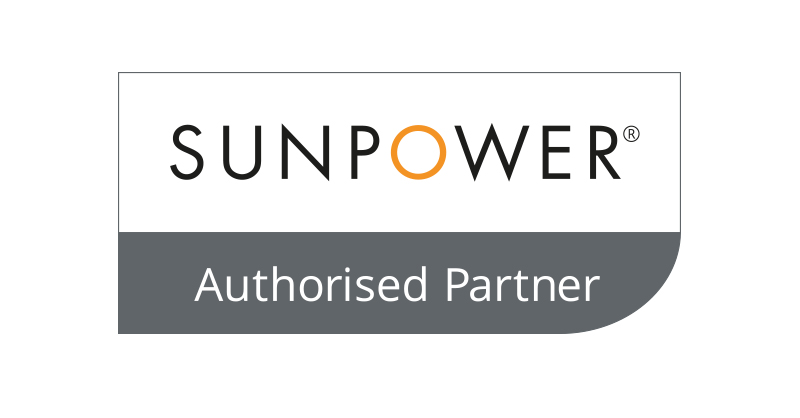 More Power = more Savings
Example: 29% more power from the same roof space
15 conventional 310W panels produces a 4.65 kWp solar array. However, using SunPower 400W panels, you create a 6 kWp solar PV system. That represents 29% more power form the same number of panels.
SunPower solar panels – Unmatched reliability
SunPower panels may cost more, but panel quality is guaranteed. In real-world testing of 800,000 panels at 264 locations over 8 years, SunPower Maxeon panels demonstrated the lowest cell degradation rates in the entire industry, with almost 4x stronger reliability than conventional panels.
Moreover, all panels are backed up by the industry-leading SunPower Corporation 'Complete Confidence Panel Warranty'.
To complement your SunPower solar PV system, we can design a battery storage solution
Most solar panels systems generate more electricity than you can use at any given moment. The upshot? A considerable amount of precious solar energy is lost to the grid.
The way around this problem is to install battery storage, such as the Tesla Powerwall. Advantages include:
Capture surplus solar energy
Provide electricity in a power-cut
Store cheap, off-peak electricity
Charge your electric car from the sun even when the sun isn't shining
Call 0800 909 8882 for a no-obligation quotation today from Infinity Energy Services, a Tesla authorised reseller and certified installer.
Solar battery storage from your local Tesla certified installer
Why use Infinity Energy Services?
We provide a first-class service, using the highest quality products to install on your home and to help provide efficient energy and cost saving products that will help create a cleaner environment at a lower cost.
One of the 10 approved UK suppliers of SunPower solar panels
Comprehensive after-sales service
Provide a no-obligation quote
Approved installation of solar panels across the South Coast
Call 0800 909 8882 for more information, or contact us online
Your first choice for solar panels in the South
Since 2011, we have installed solar PV systems all over the south of England, including in Southampton, Portsmouth, Fareham, Winchester, Basingstoke, Alton, Salisbury, Farnborough, Havant, Eastleigh, Totton, Andover, Aldershot, Horndean and the New Forest.
We also provide solar panels for business supporting companies across the UK. We have excellent Checkatrade feedback, and please let us know if you would like to talk directly to past customers.
Ask for a survey and no-obligation quotation today
Call us now on 0800 909 8882, complete the form, or email [email protected] for more information about SunPower solar panels.